Thanks for the kind words everybody. It means a lot! As for printing, I'll definitely look into it once I get closer to finishing all these arcana. And I had no idea a deck of many things even existed =[. Will have to look into that as well! But I have to say, what I love about the tarot cards is the symbolism that comes attached.
Anyway, here's the latest card: Suul, as the Wheel of Fortune!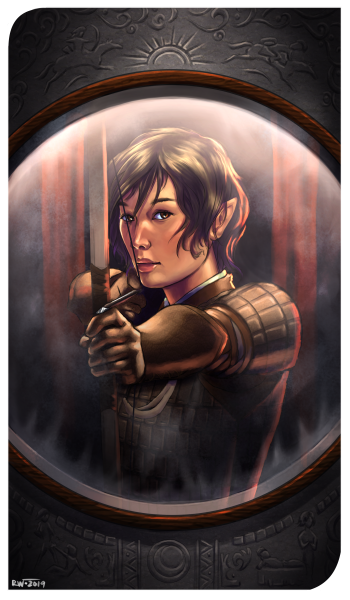 This was a challenging card for me (who am I kidding, they were all challenging D=), in no small part because it features a character played by an artist that that was my original OG art mentor: Nyssis! Without her encouragement and guidance, I would not be where I am today in terms of my art. And, it was in fact her utterly stunning tarot cards (there's a couple in this
thread
, and one
here
) that actually inspired me to attempt them myself.
It took some time and consideration to decide on what arcana I thought Suul would best embody. After discussing with Nyssis about the latest developments in Suul's life, I thought the Wheel of Fortune major arcana would be suitable.
https://www.biddytarot.com/tarot-card-m ... f-fortune/
Simplistically, the Wheel of Fortune represents karma, life cycles, and a turning point in one's life, among other things. I thought these were particularly appropriate for Suul based on the character growth and development she's experienced in her recent time on BG. Suul was once a bandit who stole and killed out of necessity, but also felt no remorse for her actions. In her time on BG, however, she's gained new perspectives that now cause her to feel guilt for her prior crimes. This seemed like a big turning point for her that I thought I would try to capture.
In my card, I have the actual Wheel part of the Wheel of Fortune represented by a circular mirror. Around the mirror are stone carvings that depict various events from Suul's past. Inside, we see Suul aiming an arrow at her reflection - a symbol of the guilt she now feels for past misdeeds. It also embodies the karmic meaning of the card - where once she aimed her arrows at innocent merchants and travelers, now she's aiming at herself.
Random notes:
- Out of all the cards I've done so far, this probably is the one that differs from the original Rider-Waite tarot card the most.
- The original card features lots of different creatures, including an angel, an eagle, a bull, and a lion. I continue my trend of excluding these elements for uh ... stylistic reasons (or possibly laziness
).
- Kudos to you if you can name the events in Suul's past depicted by the stone carvings.