Nicknames: Whisper, Little Lady, Kin, Sikerta Rina, Lovebird, Rina
Origin: Shanah Village, Tethyr (Dragon's Neck Peninsula)
Age: 27 (born 1329)
Race: Human (Tethyrian)
Sex: Female
Patron Deity: Selûne (primary), Malar (secondary)
Former Patrons: Chauntea, Kossuth, Shar
Alignment: Chaotic Evil
Classes: Spirit Shaman, Enchantress, Thaumaturge (formerly Warlock)
Profession: Mystic theurge, Reader of Candlekeep, spirit mage, witch
Languages: Common, Chondathan, Spirit Tongue, Abyssal
Height: 5'5" (165cm)
Weight: 114lb (52kg)
Hair: Dark brown, wavy and often frizzy
Eyes: Brown
Distinguishable Marks: Scars on palms, arms, back, and across her left temple, blackened left arm
Skin: Dark, some blemishes and dark circles under eyes
Handedness: Right
Posture: Fidgety, evasive
General Health: Thin but hardy, lean

BBC layout inspired by Nyssis. Portrait by LazyTrain.
---
Tarina is a dark-skinned woman heralded by the clattering of a collection of charms, talismans, fetishes, and bones. She offers a meek smile to those who look her way, but she quickly ducks out of sight when she has the opportunity.
Tarina's features are of southern origin, and her accent is Tethyrian. Though she has a natural beauty and is lean from several years of travel, Tarina often appears untidied and shaggy. Her black hair is frequently a mess, and dark circles ring her hooded eyes. Her clothing was once low-class, oversized, and well-worn, but as her financial situation has improved she has recently purchased newer, finer attire.
In conversation, Tarina is polite and well-mannered, but she is often distant and she rarely looks people in the eye. She is frequently bitter, however, and can sometimes be seen casting sour looks at certain individuals when they aren't looking her way.
Occasionally, a snake can be seen wrapped around her shoulders.
Scars
Two percussive cuts on her temple, from quarterstaff strike and pommel strike
Laceration on right outer bicep, from sword cut
Curved, jagged laceration on right side of abdomen, from scraping arrowhead tip
Laceration on top left thigh, from deflected greatsword
Lacerations at random locations on outer limbs, from glass
Vertical lacerations on left inner forearm, self-induced for blood magic
Horizontal lacerations on left and right palms, self-induced for blood magic
Blackened and leathery left forearm, from untreated viper bite as part of a divine ritual
Lacerations on her back, from flogging
Due to years of cutting and exaggerated by an untreated viper bite, all in the pursuit of blood magic, Tarina has a very weak grip in her left hand. She is unable to perform actions that require a high level of finesse with that hand.
"Poisoned, possessed, and self-mutilated. You really are not treating your body very kindly."
- Khali Avadurhzaz
Notable Possessions
---
Favored Weapons:
Bow, handaxe, magic, rapier, sling, spear.
Magical Archetype:
Controller (preferred), Summoner-Warrior (actually).
Professional Skills:
Agriculture, alchemy, brewing, cooking, herbalism, fishing, reading/writing, sewing, spellcraft.
Wizard Specialization:
Enchantment primary, Necromancy secondary, Abjuration prohibited.
Signature Spells and Spell-like Abilities:
Detect Spirits, Fiery Burst,
Sleep
,
Shapechange
(Werewolf).
Familiar:
Herald (Snake).
Strengths:
Well-mannered, respectful, pious, kind, loyal, allies in the spirit world.
Weaknesses:
Envious, spiteful, withdrawn, fearful, impulsive, vulnerable to spiritual possession.
Personality Profile
To most, Tarina appears a meek and withdrawn woman that tries to uphold proper manners and listen instead of speak. She leaves most feelings unspoken, nursing both love and anger deep in her heart and away from others. When stressed or fatigued, however, her walls break down and she can become prone to impulsive and rash behavior, even violence. This frequently sours her relations with others, as she rarely speaks of her feelings except when anger drives them to the surface.
Tarina's behavior comes from deep-seated feelings of inferiority. Born of a peasant family in a small town of little importance, Tarina grew up afraid of never being able to see the world or become anything greater than a housewife. She developed a terrible hatred against her father when she learned that he had been a powerful mage and adventurer but left it behind to pursue a life of humility, and she blamed him for forcing his ideals on her. Even after she developed a connection with the spirits and found magic in her own right, Tarina has struggled to overcome her self-doubt. She holds bitter resentment towards people she views as better than her, especially those who appear to take their heights for granted or abandon them as her father did. Tarina has come to view life as a never ending climb, and she blinds herself to any reason to ascend except to reach even greater heights.
Tarina tends towards superstition and believes most events to have had the hands of the gods or spirits at work. These beliefs lead her to seek out the spirits early in her life in the hope that they would answer her prayers for magic. Tarina's sorcerous heritage encouraged some to answer her, and she has become a skilled medium and channel for spirit magic. It has also attracted dark spirits and demons to her, however. These beings have found easy purchase in Tarina's soul, and they have worked to progressively steer her down crueler and more destructive paths.
Tarina's alignment is mildly Chaotic Evil. She is independent-minded, fearful of those in authority or who might seek to control her, angry at a world that has hurt her, and secretly desires cruelty on those she dislikes. It is her pursuit of dark magic most of all that has corrupted her, though, and as she continues to fall prey to the manipulations of the evil entities she communes with she has found herself gradually being corrupted towards Chaos and Evil. In spite of that, however, she still believes in doing good for her family and friends, and tries to keep kindness in her heart and uphold the morals that she was raised with, even as she finds it more difficult.
"The stutter on her lips just means that her mind needs time to process what her heart wants to say. She's careful, shy. There's nothing wrong with that."
- Lord Eldarian Al'maire
Habits/Hobbies
Tarina likes to experience the world, and while she's had more of it than she's bargained for over the last several years she still enjoys the occasional bout of wanderlust. She fills this need more commonly through excursions into spirit world or by scouring the memories and dreams of people around her so that she can live vicariously through their experiences.
Tarina also gains enjoyment from the feelings of self-empowerment found in destroying things. She had some amount of pyromania while growing up, exaggerated by her connection to fire spirits, and had a tendency to light fires when stressed. As Candlekeep's wards prevented this magic from working, Tarina often grew frustrated whenever she is spent time there. She has since taken to breaking things by hand instead.
Tarina has also taken up archery as a pastime, after she received combat training from Sir Jonas Rokranon while living in Thrynnar's Hold.
Above all, Tarina enjoys magic, which she gained by offering her own body as a conduit for spiritual beings. Every spell that is channeled through her resonates with the sorcerous heritage running through her veins, and she has become addicted to that sensation of supernatural power. This leeching of power from beings more powerful than her mixed with her magical heritage has allowed her to develop minor abilities of her own, and as long as she maintains a connection to her spirit companions she is able to invoke a torrent of mystical energy at will. She has also taken to studying arcane magic, further expanding her abilities.
Abilities
Despite her lack of confidence, Tarina is a powerful mage. Most of her magic comes from the spirits, but it is her body that conducts the energy she channels. Instead of preparing her spells every morning, Tarina spends her time in supplication to her spirit companions. In exchange for her respect and offerings, these spirits agree to take brief control of her body when she desires their magic and cast their spells through her. What incantations and gestures Tarina makes are done to beckon and call forth these spirits.
Though the spirits handle most of the real work, Tarina has managed to pick up some manner of knowledge in spellcraft thanks to the tutelage of her companions and through practical experience. Tarina has also recently taken up learning wizardry, becoming a mystic theurge as she practices both divine and arcane magic. Unfortunately, Tarina's lack of discipline, self-confidence, and skill makes many of her spells relatively easy to evade or resist.
Tarina has also been taught blood magic, however. This is not the natural power of born-again blood mages, instead Tarina offered blood to a demon master who bestowed greater magical power on her for the gift. This ability provides much, but demands a heavy sacrifice. With Malrakus now gone, Tarina seeks other means to achieve higher levels of power.
Tarina lacks the willpower to enjoy a fine level of control over the spirits she interacts with, which makes her vulnerable to possession. She has grown accustomed to allowing spirits to take control of her body, seeing it as a path to the power and knowledge she craves but believes she couldn't achieve otherwise. The risks are great, and Tarina has begun to recognize the danger posed by these entities after her demon used her to commit evil against those she cares for. She is more conscious about the need to protect herself against malign influences, and to control those she deals with rather than allowing them to control her.
These possessions are not always negative. Reach, and Father while the spirit still "lived," frequently take control of Tarina to protect her from danger, bestowing primal might on her to help her survive and fight off threats. Reach uses this time to flee danger; he only fights when it is necessary to escape. Another spirit, Seethe, has learned to mimic Reach and Father and perform similar feats, though he drives Tarina's body towards attack instead of retreat.
Other than her magic, Tarina is also capable of defending herself with force of arms. While she is no soldier, she has been trained in the rapier and shield by Sir Jonas, and was gifted a suit of halfplate armor by Lord Eldarian Al'maire. Though the armor disrupts her use of arcane magic, she does wear it when she expects heavy fighting, relying more on her divine magic in such fights. Tarina has also been trained in the use of the bow, which she uses over the rapier when she has it with her, and played with slings in her youth, though she is not to the level of using one in combat. Even with these skills, Tarina is still not a match for an experienced fighter, and she is prone to panic in such fights, but she holds an advantage against more poorly trained opponents, like most brigands or spellcasters.
"Right foot forward. Left foot back. Turn your body sideways to present a smaller target. Your sword is light, quick. You only need wield it with your main hand. This will leave your off hand free for magic, or a shield. No matter what, hide behind your rapier. Keep your blade point toward your foe. Your beginning, basic stance will be to keep your elbow within a hand's width of your body. Keep your point toward the enemy, and the blade aimed at their shoulder. With this stance you can guard your right, and let your shield guard your left."
- Sir Jonas Rokranon
Magical Specialization
Tarina is, or at least wants to be, a Controller mage. She favors magic that gives her dominion over other creatures, or that allows her to curse and inhibit them in some way. While she enjoys flashier elemental magic as well, and has many more spells of this type, her insecurities make her find more satisfaction in magic that lets her twist and debilitate her enemies. Blowing stuff up is immediately empowering, but commanding them or watching them squirm and writhe against the power she wields arouses a much deeper and darker part of her.
To her shame, however, Tarina is not a very
good
Controller. She lacks the Charisma to extort the full cooperation of the beings she gets her divine magic from, and she lacks the Intelligence to fine-tune her arcane magic to greatest effect. The same insecurities that lead to her wanting to
be
a Controller, also make her bad at exerting that Control. As a result, she looks for spells that let her more completely dominate her enemies, giving them less ability to defend against her. Spells that do not give the enemy a saving throw are the ideal, though few Control spells allow for this. She is thus forced to be content with only being able to ensnare the weak-minded, while she relies on the guaranteed influence of Summoning, Transmutation, and Maximized destructive spells for stronger opponents, as well as a certain amount of
soft power
over strong or prominent friends and companions that can protect her. Functionally, while she wishes to be a Controller, in practice she is a Summoner-Warrior.
Conjuration is Tarina's most-developed school. As a dealer in spirits and demons, Conjuration has great relevance in calling forth these entities into the world. Tarina has recently learned how to conjure a spirit
inside
another creature. This brutal technique suppresses or destroys the soul originally inhabiting the body, granting Tarina a limited amount of control over it. Her Summoning spells call local plants or animals to her side and then invade their bodies with foreign spirits, engorging and empowering them for a brief period of time; or they create illusory spirit creatures, giving form to dreams to fight on her behalf. In a pinch, she can also summon demons.
Divination is another school that Tarina has extensive experience with. While it is not a school she necessarily focuses on or specializes in, talent in it is a natural product of her being a spirit shaman. She is a seer, a medium, able to see a world few others are aware of. Several of her spells relate to communing with spiritual entities, revealing things for what they truly are, and entering the dreams of others, and she has received visions on occasion.
Enchantment and Necromancy are some of Tarina's favorite schools of magic, and she considers both to be her specialist schools in wizardry (with slightly more focus on Enchantment). Through Enchantment, she has the power to exert forceful influence over those who would harm or ignore her, and through Necromancy she has the power to curse those she hates. Similar to Conjuration, Tarina is also capable of calling forth spirits into the bodies of the dead, though matters of undeath are not her focus in the school. She prefers manipulating negative energy for the purpose of debilitating and spiting—or killing—others, not building an army of gross, unliving monsters. She has Conjuration for that.
Tarina rounds out her arsenal with Evocation, Illusion, and Transmutation. Evocation is a school she greatly enjoys, allowing her to wield frightening elemental spells of fire, lightning and water, while Transmutation enables her spirits to empower her physical prowess when she is possessed. Illusion is a school Tarina wields primarily in the form of manipulating dreams, or bringing the substance of dreams and the spirit world into reality.
Abjuration is Tarina's least developed school, and it is her prohibited school in wizardry. Her spotty training and reckless ambition have always lead her to make limited use of safeguards and protective magic, and she finds the school itself rather dull due its niche, subtle applications. For all of her maligning of the school, however, Abjuration is Tarina's biggest bane when facing enemy spellcasters, and it is the school she perhaps fears above all others. Abjuration negates the thing she values most in the world—her magic—and her weaker abilities are both more vulnerable to being dispelled or banished and less capable of piercing the protections of others, leaving Tarina, for all of her lust for power, powerless.
"There is a lack of self-control in you; even now, this night, I goaded you into the reaction I wanted. I made you do what I wanted simply by getting you irritated with me. No amount of power or knowledge will ever be enough if you cannot control your feelings. For otherwise they will always allow others to control you."
- Sir Jonas Rokranon
---
Patron Deities

Selûne

(Primary)




As a goddess who promotes self-reliance and in finding one's own path, and who favors women, spellcasters, and the lost and outcast, Selûne holds a strong appeal for Tarina. As Tarina has realized her own aimlessness, her affection for Selûne has grown. Tarina is also surprisingly more in accord with Selûne's dogma of tolerance than she consciously realizes. Though bitter and one to hold grudges, particularly against certain groups of people, among those she speaks to Tarina is usually the first to cast doubt on accusations that seem without merit, and she frequently argues against blindly condemning those that many in society consider dark or evil.




Malar

(Secondary)




Tarina's tumultuous life has taught her to view Malar's dogma as more honest than other nature deities. The concepts of balance and the natural cycle are good ones for druids and farmers, who look to the long term health of the world, but Tarina sees the relation between real creatures as one where dog eats dog and survival is fought hard for. Tarina lives by a tribal mentality, and she prays to Malar for the strength to fight off depredation by those not part of her "pack". He is the god of survival and fighting for your right to exist, a position Tarina has felt herself in for much of her life. Malar is therefore among Tarina's most favored deities, and she has held him as her patron many times. She was closest to him in Tethyr during the years following the Ten Black Days, and in Amn while she was living on the streets and running from the Cowled Wizards. Even today, when she counts Selûne as her patron, Tarina still largely lives by Malar's teachings.



Favored Deities

Gond


Gond is not traditionally known as a god of magic, but to Tarina the Wonderbringer represents exactly that. Tarina sees all craft as inherently magical, for whether by hammer or spell things of dreams are made into things of reality. And in a world where the true gods of magic promote its study but discourage its application, Tarina sees in Gond a god that understands that things can only be appreciated if they are used. Tarina frequently prays to Gond when she handcrafts her various totems.


Ilmater




Ilmater is the god of endurance and healing, and a being whose essence Tarina has directly witnessed. She sees in him one of the most virtuous of the gods, though she has often expressed discomfort during times where his servants have expressed a need to engage in violent acts for the greater good. Tarina feels such acts are at odds with a god who is about mending hurts rather than causing them.




Kossuth




Ever since she was a child, Tarina has had a love of fire. She has spent hours enraptured by the wild dance of flames and the way it consumes everything fed to it, and finds in such moments that dreams come swiftly to her mind. To Tarina there are few purer expressions of power and insight in all the world, and so she sees fire as an embodiment of magic. Tarina has held Kossuth as her patron at various points in her life, though she admits she has little in common with the god beyond her appreciation for fire.




Mystra




Both favored and disfavored, Tarina has a complicated history with Mystra. Tarina loves magic beyond anything else in the world, and so she naturally wants to hold Mystra dear to her. Unfortunately, Tarina's opinions on the lawful Mystra are soured by the regulations the goddess imposes on magic, and the words of her servants who preach against dark magic. Tarina cannot understand why the Lady of Mysteries would seemingly discourage magical practice instead of champion it to its fullest. Still, while she feels unloved by Mystra, the pursuit of magic defines Tarina and few other gods can rival the influence Mystra has had on her life.




Set




Set is neither a local god nor one Tarina even knew about until recently, but as the god of blood magic (among his many other portfolios) Tarina has begun offering him worship. Set has also bestowed upon Tarina her familiar, Herald (as in, 'herald of Set'), through which the snake god keeps an eye on Tarina and guides her magical studies. Tarina is wary of the god's evil nature, but she considers the deal better than her pact with the demon, Malrakus—the previous recipient of her blood sacrifices.




Shar




Both a favored and a disfavored deity, Tarina feels a strong sense of kinship with Shar, who reminds her of herself, and she has occasionally taken Shar as a patron when she feels at her bleakest. Tarina frequently finds succor in Shar, stewing in bitterness and darkness, though as Shar's activities have directly hurt a number of people Tarina cares for she is struggling to continue holding the Lady of Loss in a good light. Tarina's thoughts on Shar can be summarized as pity coming from understanding. Tarina has vague thoughts that what Shar needs is positive worship from people like her, people who understand her pain and darkness but don't validate her self-destruction, who can soothe her wounds and help her become a less dark deity.



Disfavored Deities

Bane


Tarina calls Bane the God of Tethyr. In the strife of the civil war, and the poor treatment of the common folk by the noble lords that lead to it, Bane held much sway in many of the traumatic events of Tarina's life. Tarina does not hate Bane, per say—that is reserved for Bhaal—but she fears him and believes him one of the most powerful gods in Faerûn. Many are the prayers Tarina has sent in Bane's direction in the hope of sparing herself and those she cares about from his wrath.


Bhaal




The Lord of Murder has sunk his dagger into many that Tarina held dear. She greatly despises (and fears) Bhaal, and has come to view any form of killing, regardless of how justified it might be, as an evil act. This does not make Tarina averse to killing when the killing is done against people she hates, but such desires come from a place of malice, not nobility. Despite her hatred of the god Tarina has taken to wearing Bhaal's symbol after encountering his avatar, but this token is worn out of fear rather than respect.






Chauntea


As the daughter of a small peasant village, Tarina is very familiar with the worship of Chauntea. While Tarina does not exactly hate Chauntea, she certainly doesn't like her, as the Grain Goddess represents a part of her life that she only wanted to escape from. Still, Chauntea had a significant influence on her upbringing and she, like many commoners, held the goddess as her patron for much of her early life.


Lathander




As a cynic, Tarina regards the boundless optimism expressed by Lathander and most of his church to be willful blindness to reality. Tarina views the world as dark and dangerous, a place where threats are countered by pragmatic action, not hope. Tarina's dislike was solidified after the refusal of Lathander's church to act on concerns she had raised, as those concerns upset the ever-positive world view the clergy wished to uphold.




Myrkul




While Tarina reserves most of her anger for Bhaal, Myrkul is given a share of it as well as the Lord of the Dead. Tarina is much less willing to openly disrespect the Lord of the Dead, however, fearful both for her own life as well as for the well-being of the souls that Myrkul took from her.




Mystra




Both favored and disfavored, Tarina has a complicated history with Mystra. Tarina loves magic beyond anything else in the world, and so she naturally wants to hold Mystra dear to her. Unfortunately, Tarina's opinions on the lawful Mystra are soured by the regulations the goddess imposes on magic, and the words of her servants who preach against dark magic. Tarina cannot understand why the Lady of Mysteries would seemingly discourage magical practice instead of champion it to its fullest. Still, while she feels unloved by Mystra, the pursuit of magic defines Tarina and few other gods can rival the influence Mystra has had on her life.




Shar




Both a favored and a disfavored deity, Tarina feels a strong sense of kinship with Shar, who reminds her of herself, and she has occasionally taken Shar as a patron when she feels at her bleakest. Tarina frequently finds succor in Shar, stewing in bitterness and darkness, though as Shar's activities have directly hurt a number of people Tarina cares for she is struggling to continue holding the Lady of Loss in a good light. Tarina's thoughts on Shar can be summarized as pity coming from understanding. Tarina has vague thoughts that what Shar needs is positive worship from people like her, people who understand her pain and darkness but don't validate her self-destruction, who can soothe her wounds and help her become a less dark deity.




Siamorphe




Tarina knows little of Siamorphe, who is rarely worshiped outside of Waterdeep, but she laughs at the idea that a god of nobles can be considered a good god.




Tempus




Tarina's dislike of the gods of death extends as well to Tempus. Tarina views any form of armed conflict as an evil, for it inevitably brings harm to innocents regardless of cause.



Primal Patrons
As a shaman, the source for Tarina's magic is dependent on the spirits she communicates. Though these spirits are not themselves gods, each is a supernatural embodiment of some aspect of the world and so contains some manner of divine power that manifests in various spell-like abilities. Tarina bargains with these spirits for their aid in the Material Plane, using herself as the conduit through which they exert their influence beyond the world of spirits. As most spirits are relatively weak and only able to offer one or two spells, Tarina must negotiate with many different spirits to gain a complete catalog of spells.
---
Arcana (Low Magic, Blood Magic) - 4
Trained


Tarina has a fascination with magic, though her actual knowledge of the Weave is limited. Her training in spellcraft gives her an understanding of the schools of magic and basic thaumaturgy, though superstition and magical thinking still dominate her beliefs. She has been learning more with books she borrowed from Candlekeep, from tutors such as Edelgarde Spades, Kahanak Habdilof, and Wendi. She is also versed on some forbidden magic, including blood magic. She has only the most basic knowledge of non-spirit magical creatures and lore not related to spellcasting, though.

Related Fields
Architecture and Engineering - 0
Untrained




Tarina is content in knowing that structural and mechanical creations work, rather than how.



Dungeoneering - 0
Untrained




Though she has engaged in some manner of adventuring for coin, Tarina is not a professional on the subject.



Geography & Astronomy (Southern Sword Coast) - 1
Trained




Often isolated and sheltered, Tarina has limited knowledge of the land, though her journey north from Tethyr along the Trade Way has given her some first-hand experience. She has limited knowledge of the nations of Tethyr, Amn, Baldur's Gate, and Waterdeep, and the peoples who live there.



History (Ancient Human Empires) - 1
Trained




Tarina's understanding of history amounts mostly to creation myths and folktales, as well as a small degree of local lore from the Fyraven County of Tethyr (located on the Velen Peninsula), where she is from. However, she has recently began studying ancient human empires, specifically Netheril and the Shoon Imperium.



Local (Tethyr, Amn, Baldur's Gate) - 3
Trained




Tarina knows a small degree of local lore from the Fyraven County of Tethyr (located on the Velen Peninsula), where she is from. She also has some local lore from Murann, Amn, and Baldur's Gate. Practically speaking, she has 1 point of Local lore for each region.



Nature (Herbalism, Spirits) - 8
Trained




Nature is one of Tarina's strongest categories. She has some understanding of herbs and remedies from her time as an assistant in her parents' apothecary, as well as an understanding of spirits and the spirit world. Her understanding of spirits extends to civilization and people as much as it does flora and fauna.



Nobility and Royalty - 0
Untrained




Tarina has the basic understanding of nobility and royalty that any commoner receives. She does not understand cultural differences between lords of different nations, nor the expected protocols beyond respecting their superior station.



Religion (Incorporeal Undead) - 4
Trained




Tarina has a commoner's understanding of the gods and goddesses of the Faerûnian pantheon. She knows little of the gods beyond their names and the most fundamental qualities of their portfolios. Extra points in this category represent instead her understanding of ghosts, shadows, and spirits of the dead.



The Planes (Dreamtelling, Spirits, Demons) - 8
Trained




The Planes is another of Tarina's strongest categories. While she has little understanding of most cosmic planes, believing them to simply be the homes of the gods, she does have a good understanding of dreams, the spirit world, and their inhabitants. Corollary to those, she has some experience with the planes, especially the Astral Plane, the Plane of Shadow, the Feywild, and the Ethereal Plane, where they relate to spiritual matters. In addition, as a result of her connection with Malrakus, as well as personal study, Tarina also has some knowledge of demons and the Abyss.



---
Tarina is a peasant from a small village called Shanah in Tethyr's Fyraven County, on the Dragon's Neck Peninsula. Her family owned a local shop and sold herbal ingredients for other villagers and travelers. Her father, Emell, had some experience as an adventurer in his youth, but he had chosen to leave that life behind and settle down.
Tarina was the family's only child. A quiet and withdrawn girl with few friends, she grew to hate the lonely little town. Toril is a magical world, but all of that was far away. Tarina dreaded the thought of spending her entire life a peasant girl in some forgotten village. Though she did love her parents, Tarina had a tenuous relationship with her father, who she blamed for refusing to use his adventuring skills and earnings to give the family a more prestigious, prosperous life.
Though coming from a magical lineage through her father, Tarina was not brought up as a mage. Perhaps because of a calling of her blood, or simply her natural curiosity and desire for a more dynamic life, she grew to envy the wizards and witches in the stories she was told and often wished she could do magic like they could. She began exploring other ways to get what she wanted, inventing crude rituals and offering gifts to any god or spirit that would listen. Eventually, one did. Tarina begged the spirit for help and allowed it anything it wanted. It chose to inhabit her body, and became Tarina's spirit guide. Though it was too weak to provide any real magic, its essence allowed Tarina to see and communicate with other spirits. She began trying new rituals to attract other spirits, eager to build on what she had.
Things became more difficult after that, however. Civil war erupted in her homeland, and while her village was able to endure for several years, it suffered from growing food and material shortages as a mix of taxation and conscription let many farms go fallow. Her family eventually fell victim to the chaos, and Tarina fled the country and had to learn to live on her own in a dangerous world. Her longing for magic had initially come from a desire to escape dreary boredom and insignificance, but now it was growing into a panacea, the solution for every trouble she had. She could have saved her family, if she had just had a little more power. She could survive, if she had just a little more power. She could someday find a life of wealth and prominence, if she had a little more power. Magic became her life, because magic let her control her destiny instead of be controlled by it... as long as the spirits allowed, at least. And what the spirits allow is becoming more and more limited as years go by, as she foolishly opens herself up to beings that see her as a tool for their own ends.
Tarina ran north, briefly settling in Murann. She found a stable life there, but further hardships eventually drove her to depart. She cut through the rest of mage-hating Amn and settled in Baldur's Gate, and her stay in that region saw her make new acquaintances and become a seeker of Candlekeep. During her time in Baldur's Gate, Tarina used her knowledge of spirit magic to help others in various ways, though some of these experiences left her with lasting consequences. Beyond Candlekeep, Tarina found paid work with the Church of Ilmater and the Order of Pathfinders, collecting donations and providing for orphans. In these travels, Tarina found love again, of friends, family and more. Always were these relations marred by her darker pursuits, however.
Those pursuits eventually caught up with her. During a trip back to Tethyr in the aid of a friend, her demon made itself known at last and Tarina was forced to finally confront its evil. She promised those she had hurt that she would rid herself of it, but that promise would itself lead to heartbreak, as, after discovering her father still alive—a prisoner of a Tethyrian robber baron—she was cruelly forced by her demon master to slay him. This has broken her. While her demon was eventually expelled, Tarina found no victory in Tethyr. She stayed an additional 2 years at Thrynnar's Hold as she tried to deal with her grief, during which she found a surrogate father in Jonas Rokranon. She has finally decided to return to the Baldur's Gate region, as she promised she would, but she doubts she will ever fully recover.
Through it all, Tarina's magic has kept her alive, but her abilities are spotty and she has relied on the patronage of untrustworthy spirits and blood sacrifices to demons to shore up her deficiencies.
Factions
Candlekeep
(Reader)
House of Spades
(Trusted)
Goals
Tarina has simple desires of attaining greater wealth and magical and temporal power. She is afraid of a humble life of insignificance, and so she has always been attracted to things that appear (at least on the surface) to offer a path to greatness. This has made her become a servant of supernatural entities, and she is inclined to listen to otherworldly whispers and omens. While her life is not constantly lead by such entities she does answer when they choose to ring. They give her magic, afterall, and that's what she really cares for.
Plot hooks:
Other Stories:
Spirits and Demons
, a short collection of Tarina's experiences.
Why Good Folk Pray to Dark Gods
, a treatise written by Tarina about her beliefs on the dark gods of Faerûn.
"You are contradictions to me, in many ways. Anger and meekness, piety and exploration of uncommon magic, stubbornness and service."
- Ameris Santraeger
Artwork Credit: 'Spirit shaman' by Angevere @ deviantart.com
Artwork created with Artbreeder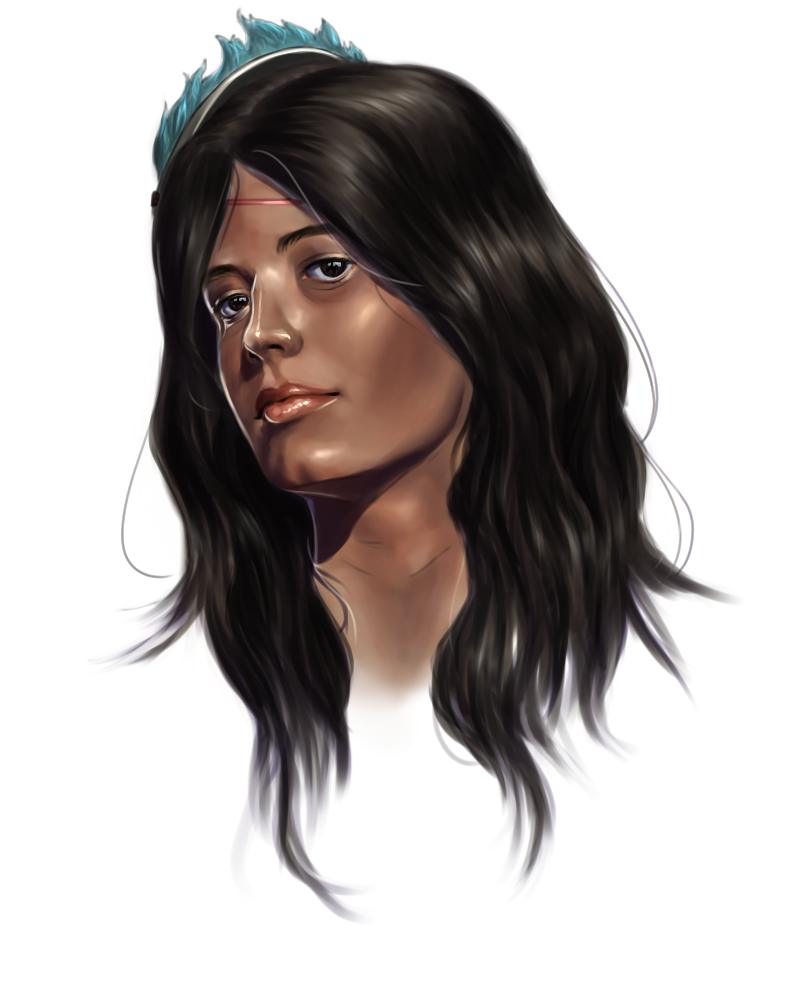 Artwork Credit: 'Various faces of BGTSCC, Continued ... (2017-06-09)' by wangxiuming